Why Anti-Slip Ladder Rung Covers Are Essential
Prevent a slip, stumble, or a fall while ascending or descending a ladder.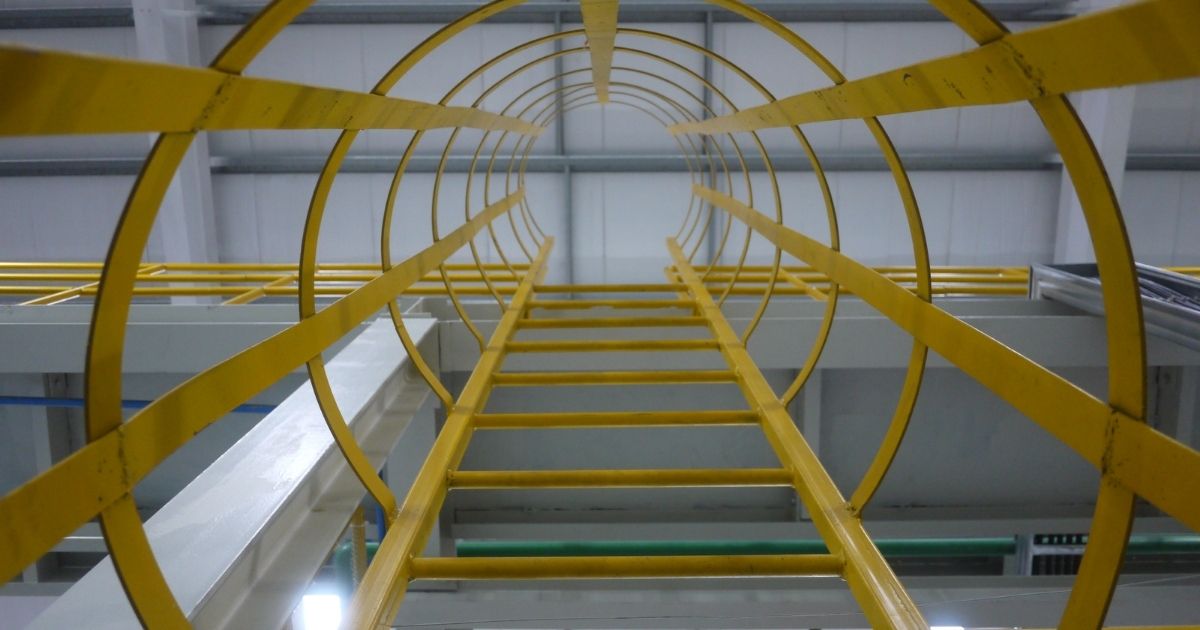 (Taken from Advance Anti-Slip Surfaces. Republished with permission. Edited for point of view, recency and relevance.)
Slips, trips, stumbles, tumbles and falls are the highest frequency safety risks in most industries and workplaces today.
The severity of each possible hazard can depend on the industry, the situation and the person, but one small slip, stumble, trip, tumble or fall has the potential to cause a serious incident or injury or, in the worst-case scenario, even a fatality. These can lead to the possibility of legal liability, lost production time, and lengthy workplace absences.
Businesses also have a duty of care for the well-being of their employees, contractors, visitors and customers, which could mean serious consequences if one of them were injured while ascending or descending a ladder in your workplace.
Understanding anti-slip ladder rung covers
When it comes to health and safety, there should be no shortcuts. That is why it is essential that an anti-slip hazard control measure is recommended throughout all locations, and in every facility.
In this article, let's focus on ladders.
Ladders are indispensable tools in various settings, everywhere from commercial, industrial workplaces to mobile machinery and equipment. Nevertheless, they come with inherent risks, especially when used in slippery conditions.
Installing non-slip ladder rung cover products will maximise pedestrian safety and prevent many of the incidents and injuries that hurt people, reduce productivity and increase costs.
Ladder rung covers are resistant to many chemicals, corrosion and fire, as well as the harsh abuse of boot traffic up and down the ladder.
That's where Advance Anti-Slip ladder rung covers come into play. Their rung covers are designed to provide an additional layer of safety, helping to reduce the risk of slips and falls when climbing ladders. They also meet Australian safety standards, such as the AS 1657-2018 for fixed platforms, walkways, stairways, and ladders.
Why do you need anti-slip ladder rung covers?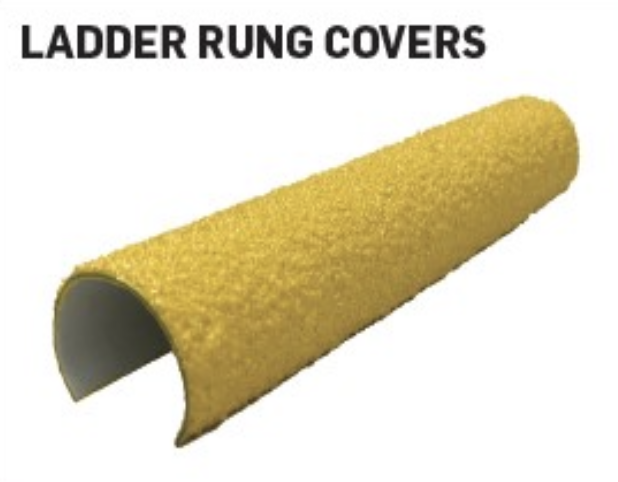 Non-slip ladder rung covers are essential because they:
Provide a greater surface area on the ladder rung for people to step on
Provide a visual reference point for people, including people with a vision impairment, and make the rungs more visible to prevent a possible fall
Support and protect the rung from unnecessary wear and tear or any possible impact damage, which extends the useful life of the ladder
Provide a firm footing, keeping people safe from a slip, stumble or fall
Mitigate any possible liability resulting from an accident if one does occur
Provide a safer access for workers, contractors and visitors
Reduce accidents, medical and insurance costs, lost productivity, and increases morale
Deliver firm footed traction from the top to the bottom of the ladder
For a variety of reasons, ladders can often become hazardous. Anti-slip ladder rung covers are an effective way to provide extra grip to the rungs where people tread most frequently.
A half-round ladder rung cover just doesn't provide enough non-slip surface area on the ladder rung. The heel of a person's boot can catch lower on the rung cover which could almost turn a half round rung cover into a secondary trip hazard.
You'll often see ladder rung covers in workplace applications, such as in:
Construction: To keep workers safe on scaffolding and elevated work platforms
Manufacturing: To improve safety on factory floors and assembly lines
Warehousing: To prevent accidents in distribution centres and storage facilities
Maintenance: Essential for facility management and repair work
Utilities: To protect utility workers during pole and tower climbs
Their performance has been tested even in some of the world's toughest environments, including:
Offshore drilling platforms
Marine vessels
Greasy food processing facilities
Dusty manufacturing plants
Automotive refinishing operations
Power generation facilities
Key benefits of anti-slip ladder rung covers
Enhanced traction: The primary purpose of anti-slip ladder rung covers is to offer improved traction. They are coated with carborundum materials that provide a secure grip for your feet, even in wet or oily conditions.
Safety in diverse environments: Anti-slip ladder rung covers are versatile and suitable for various environments, including construction sites, silo's, shipping, defence facilities, factories, warehouses, and even on the top of most tall buildings.
Durability: Advance Anti-Slip ladder rung covers are crafted from robust materials, ensuring they will withstand the test of time and frequent use.
Ease of installation: Installing these covers is usually a straightforward process. They can be quickly attached to your ladder's existing rungs, making it a cost-effective safety upgrade.
Customisation: Advance Anti-Slip ladder rung covers come in different sizes and designs to accommodate various ladder types and rung dimensions.
Why choose Advance Anti-Slip Surface ladder rung covers
Advance Anti-Slip Surfaces' Class 1, metal-backed and non-slip ladder rung covers provide a full 270 degrees of slip protection, exactly where it is needed the most. They are available in circular and square styles that snap fit easily over the rung to provide a long-lasting, highly visible surface to climb on.
Their performance has been tested in some of the world's toughest environments, including offshore drilling platforms, marine vessels, in greasy food processing facilities, dusty manufacturing plants, automotive refinishing operations, and power generation facilities.
Advance Anti-Slip Surfaces is an Australian-owned manufacturer and supplier of an extensive range of class-one metal-backed anti-slip ladder rung cover safety products.
These durable non-slip rung covers resist corrosion and impacts, providing years of anti-slip protection in a variety of environments, from offshore drilling platforms to commercial applications. They are available in circular and square profiles to easily fit over existing ladder rungs.
Advance Anti-Slip Surfaces' non-slip products comply with national and international standards for quality, performance and safety.
They are also backed by an extensive warranty.