Does Your Business Need an Anti-Slip Solution?
When it comes to slip resistance compliance, always err on the side of caution.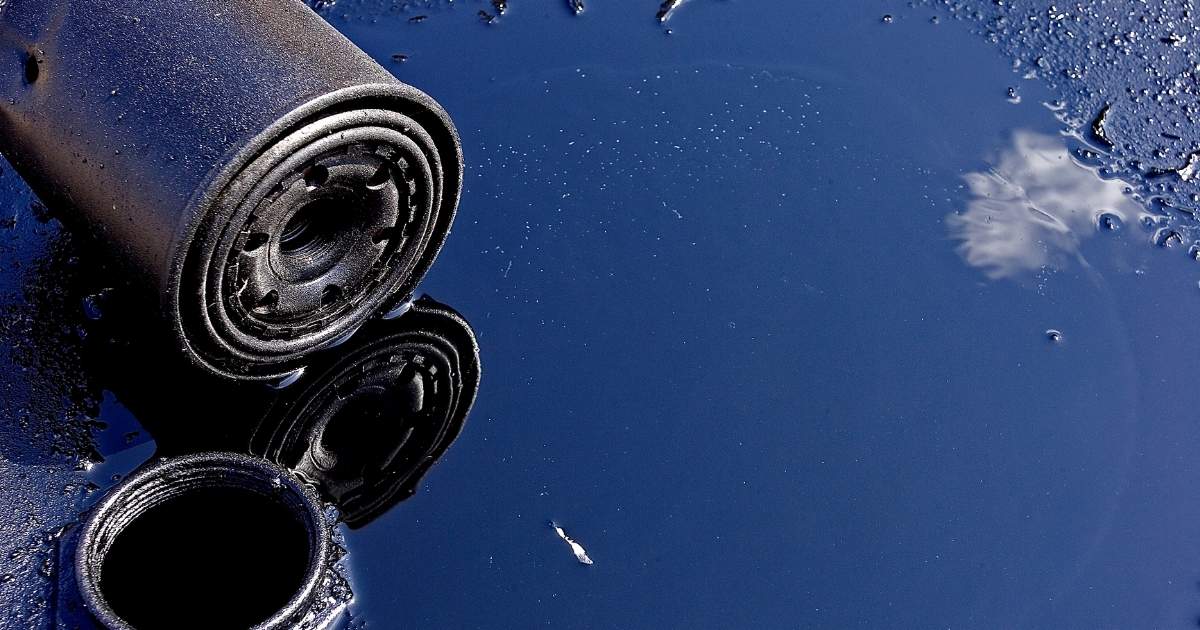 If these work health and safety (WHS) statistics fail to convince you to install anti-slip solutions where your staff and customers walk, perhaps your legal duties will.
Are anti-slip solutions mandated by law?
Yes, as a business owner, you have a general duty of care. Put simply, you have WHS responsibilities.
As we've emphasized in our slip resistance compliance guide:
Slipping, tripping and falling are risks that can be associated with steps and stairs, and can lead to serious injuries. Under the WHS Act, the employer has a 'duty of care' to provide and maintain a safe and healthy workplace – all potential hazards must be identified, the associated risks assessed and then controls introduced to eliminate or reduce those risks as far as practicable.
(Make sure to get your free copy of the guide here.)
Your responsibility extends to making sure your customers, visitors, and any contractors are safe at your business premises.
It is prescribed by Australian Standard AS1428.1 and a mandatory compliance requirement under the Building Code of Australia.
Disclaimer: AIMS is not a WHS law expert, therefore the information provided here should be treated as general in nature and not be treated as specific, legal or professional advice. Our article about WHS laws only aims to compile resources that may be helpful to your business. Official sources of information are cited.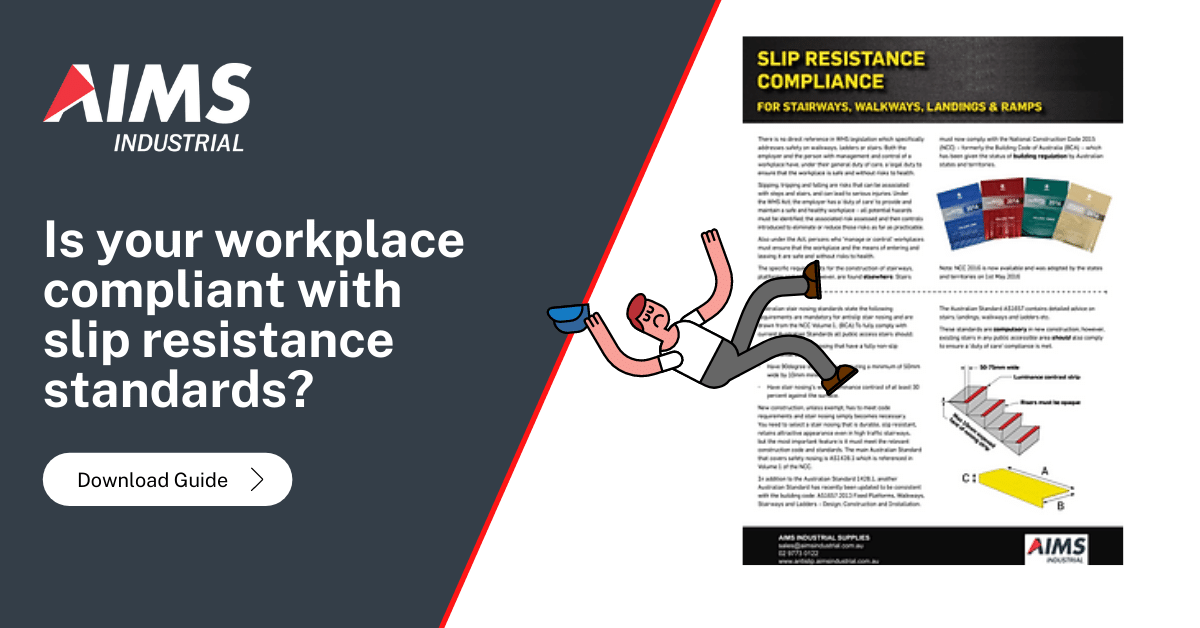 Specific standards for different flooring surfaces
Standards Australia has a compilation of the prescribed minimum slip resistance requirements for different flooring surfaces.
Here are the links for your convenience:
Common slip and trip hazards
You can refer to this comprehensive fact sheet from Safe Work Australia (SWA) when trying to identify what may possibly cause a slip or trip accident.
For your convenience, we've simplified SWA's list below.
Spills of liquid or solid material
Wet cleaning methods
Wind-driven rain or snow through doorways
Sudden change in floor surface (eg. joins between carpet and polished timber)
Change from a wet to a dry surface
Dusty and sandy surfaces
Ramp incline
Bumpy/Loose flooring
Poor lighting
Use of unsuitable footwear
Ridges in floors or carpets
Worn floor coverings
Broken tiles
Cracks and potholes in floors
Changes in floor level
Thresholds and doorstops
Floor sockets and phone jacks
Cables from power extension units
Loads that obstruct vision
Obstacles in traffic areas
For more information, be sure to read our article about how you can prevent slips, trips and falls in the workplace.
Which floor types need anti-slip solutions
SWA's fact sheet has a quick guide to help you figure out which kinds of surfaces get slippery in what situation:
| | |
| --- | --- |
| Floor Type | Characteristics |
| Concrete | Rounded aggregate can be slippery when concrete wears. Interior surface is often sealed to prevent dusting and absorption of liquids - this can increase slipperiness. |
| Terrazzo | Gives good appearance and wears well but can be slippery when wet, when excess polish is used or when dusty. |
| Quarry tiles, ceramic tiles | Low water absorption and good resistance to chemicals. Slippery in wet conditions if smooth, but can be moulded with aggregate or profiles to improve slip resistance - special cleaning equipment may then be required. |
| Glazed ceramic tiles | Slippery when wet, particularly with soapy water. Some slip resistance treatments available, but preferable not to install these tiles on floors. |
| Vinyl tiles and sheet | Easy to clean. Use sheet form where frequent washing is required to avoid water getting under tiles. Slippery when wet, particularly if polished, however slip resistant vinyls are available. These have aggregates moulded in. Thicker and softer vinyls are more slip resistant than hard ones. |
| Cork | Must be sealed to prevent absorption of oil and water, but may then be slippery when wet. |
| Steel plate | Tends to be slippery when wet or oily, particularly when worn. |
| Rubber | Less effective in wet conditions. Must be fixed down well at the edges and joints or will cause a trip hazard. |
| Plastic matting | Interlocking PVC extrusions give good drainage and slip resistance. Hose down or steam clean. |
| Carpet | Carpet has a shorter life than hard floor surfaces, but it can be a cost-effective solution. Installations should be wall to wall, to avoid the hazard of a trip on edges. When used in small local areas, such as at entrances, it should be installed in a recess in the floor. Alternatively, it should be rubber-backed and with hardwearing tapered edges. Trolleys can be harder to push on carpet, but if larger wheels are fitted and the carpet does not have a deep pile, this is not a serious problem. |
| Fiberglass gratings | This product can have grit particles moulded into upper surface to provide very good slip resistance. Fluids are quickly drained away. |
We're guessing there's a big chance you'll need an anti-slip solution for your business. Naturally, your next question will be which anti-slip solution is right for you, and we'll cover that in the next article.
For now, download our free guide to slip resistance compliance.
In the meantime, if you have questions about anti-slip solutions, don't wait. And let's talk.