Ezylok G6 Basic Workbench 1800L x 900H W/ 2 Drawer & 1 Cupboard - G6-189-T1
G6 Heavy Duty Workbench With Cupboard and Drawer Units
---
---
Browse other products under: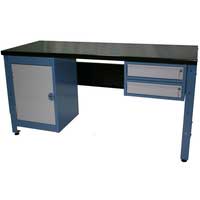 Workbenches
Browse other products by:
Ezylok
---
Specifications
Depth (mm): 750
Height (mm): 900 (Adjustable)
Width (mm): 1800
Loading(UDL): 800 kg
T1 Standard Steel Top
Basic Workbench with 2 Drawers & 1 Cupboard
Features
Extensive range of cupboards, drawers and bench top configurations
Creates a pleasant working environment
Ergonomically designed flexible working heights
Strong, durable and built to last
Heavy duty 1.8mm sheet construction
Powder Coat Finish
Descriptions
Ezylok Workbenches consist of bolted leg units, drawers, cupboards, cantilever shelf units and a variety of workbench tops.

Each unit is supplied in kit form and bolted together on site.

Ezylok Workbenches are adjustable in heights from 700mm, 800mm and 900mm with these dimensions being nominal as overall heights of each bench can vary due to the footplate adjustment and the benchtop.

Ezylok Workbenches are available in 750mm deep and three standard lengths being 1200mm, 1500mm and 1800mm.

Bolted leg units give the structure maximum adjustability, strength and rigidity. The modular design also allows components to be added quickly and easily as your requirements change without the need to make costly structural changes.

Ezylok Workbenches are finished in our standard colour combination being Wedgewood Blue, APO Grey, and Black Satin. These colour combinations have been chosen to give a modern attractive look to your office or work area.

Ezylok Workbenches can be finished in any colour suitable to meet the requirements of every workplace.
Finish
Body - Wedgewood Blue
Bench Top & Undershelf – Black Satin
Shelf Units – APO Grey
Cupboards & Drawers – Wedgewood Blue & APO Grey
| | |
| --- | --- |
| AIMS SKU | A0101697 |
| Brand | Ezylok |
| Model # | G6-189-T1 |
Calculate Shipping for A0101697