TechTop 1.1 kW Motor 415V 3 Phase 4 Pole, 1420 RPM, Foot Mount TA4B011 3TAIBHR
415V Three Phase Aluminium Brake Motor (TA4B0113TAIBHR)
---
---
Browse other products under: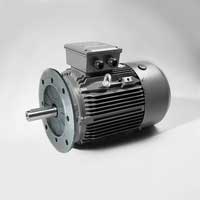 415V Three Phase Motors
---
TechTop's TAIB aluminium series AC induction motors are suitable for all industrial applications where optimal design performance and low weight are key factors.
TAIB braked motors are fitted with Intorq brand direct current brakes and are "fail to safe" design, as the brake will engage when the power is disconnected.
All TechTop TAIB series electric motors are fitted with an emergency hand release.
As standard, TechTop's TAI series are fitted with detachable feet allowing for the motor feet to be repositioned to either side to produce a side mounted terminal box.
| | |
| --- | --- |
| AIMS SKU | A0098893 |
| Brand | TechTop |
| Model # | TA4B0113TAIBHR |
| Poles | 4 |
| R.P.M. | 1420 |
| Shaft (mm) | 24 |
| Frame | 90 S |
| Mounting | Foot Mounted (B3) |
| | |
| --- | --- |
| Group Code | Techtop-TAIB-1.1kw |
| Product Type | Three Phase Motor with Brake |
| Material | Aluminium |
| Power (kW) | 1.1 |
| Power (horsepower) | 1 1/2 |
| AC Phase | Three Phase |
| Nominal Rated Input Voltage | 415 V |
| Series | Techtop TAIB |
| Current Type | AC |
Calculate Shipping for A0098893