Seco Turning Insert R Shape Code 4.5 x 4.76 x 12mm T Insert Type - M3 7° Grade TH1000 ± 0.13/± 0.05mm RCMT1204M0-M3 Pack of 10
Turning Insert RCMT Insert Style - M3 7° Grade TH1000
---
---
Browse other products under: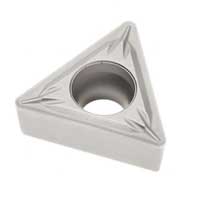 Turning Inserts
Browse other products by:
SECO
---
Seco Turning Insert R Shape Code 4.5 x 4.76 x 12mm T Insert Type - M3 7° Grade TH1000 ± 0.13/± 0.05mm RCMT1204M0-M3 Pack of 10
Turning Insert R Shape Code T Insert Type - M3 7° Grade TH1000
R shape code
T Insert Type.
7° insert side clearance angles.
TH1000 Insert Grade
PVD coated.
A very hard super micro-grain grade intended for partly hardened steel components as well as generally workpiece materials such as superalloys and due to remarkable edge toughness it also provides high performance in interrupted cuts and hard-surface removal.
Ti-Al-Si-N nanolaminate coating.
M3 Chipbreaker Programme
A reliable semi-finishing to medium roughing chipbreaker ensuring safe chip flow.
Suitable for medium cuts in steel and stainless steel application including boring.
Indicative machining range: f = 0,12–0,60 mm/rev, ap = 0,2–4,0 mm.
About Seco Turning Insert
Anything is possible when it comes to our broad selection of general turning grades and chip breakers.
Supporting inserts of different shapes, sizes, and thicknesses, we developed each of these solutions with the same goal in mind.
to boost the productivity and tool life in your turning applications.
Covering all material groups, this comprehensive range allows you to achieve your goals in terms of material removal rates, tool life, and surface finish.x
| | |
| --- | --- |
| AIMS SKU | A0116558 |
| Brand | Seco |
| Model # | 2998593 |
| Barcode # | 98593029001004 |
| Product Type | Turning Insert |
| Designation | RCMT1204M0-M3 |
| Fixing Hole Diameter (d1) Mm | 4.5 |
| Fixing Hole Diameter D1 Mm | 4.5 |
| Insert Shape Code (SC) | R |
| Insert Hand (IH) | Neutral |
| Grade | Grade TH1000 |
| Chipbreaker Programme | M3 |
| Clearance Angle Major (an) Deg | 7.0 deg |
| Insert Style | RCMT |
| Insert Seat Size Code (SSC) | 12 |
| Cutting Edge Count (CEDC) | 4 |
| Qty in Pack | 10 |
| Tolerance | ñ 0.13/ñ 0.05mm |
| Insert Diameter (insd) Mm | 12 |
| Insert Grade | Grade TH1000 |
| Insert Thickness (S) mm | 4.76 |
| Grade Type | Carbide PVD |
Calculate Shipping for A0116558