Wiha System 6 Reversible Blades Mixed Screwdriver Set, 6 Pieces
System 6 Reversible Blades Mixed Screwdriver Set
---
---
Browse other products under: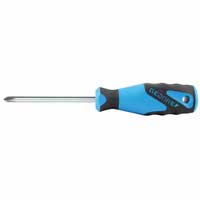 Screwdrivers
Browse other products by:
Wiha
---
SYSTEM 6 reversible blades Mixed Screwdriver Set, 6 pieces
Titanium silver, laser tip sizes.
High-quality CVM steel, through-hardened.
Blade length is adjustable from 42 - 114 mm.
Versatile and space-saving, it fits in every toolbox.
Robust roll-up pouches allow space-saving storage of tools.
Clickstop ball clamp guarantees a secure hold and rapid blade exchange.
Contains
5 x 5 mm
3.5 x 4.5 mm
4.0 x 6.0 mm
5.5 x 6.5 mm
PH1 x PH2
(1) System 6 SoftFinish®-telescopic handle
| | |
| --- | --- |
| AIMS SKU | A0107570 |
| Brand | Wiha |
| Model # | 27715(281T6) |
| Barcode # | 4010995277154 |
| Product Type | SYSTEM 6 reversible blades Mixed Screwdriver Set |
| Weight (g) | 437 |
| Tool Length (mm) | 300 |
Calculate Shipping for A0107570