Wiha SoftFinish Slotted And Phillips With Solid Steel Cap Set, 6 Pieces
SoftFinish Slotted And Phillips With Solid Steel Cap Set
---
---
Browse other products under: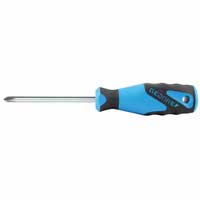 Screwdrivers
Browse other products by:
Wiha
---
SoftFinish Slotted And Phillips With Solid Steel Cap Set, 6 Pieces
Screwdrivers also stand out due to their sophisticated handle size concept.
The solid steel cap on the handle end allows direct hammering to loosen screws that are stuck.
The hexagon head on the blade enables higher torques to be transferred using a screw wrench.
The SoftFinish® screwdriver set with striking cap and hexagon head provides optimum capabilities for screw-fastening, gouging, and chiseling.
Application
Suitable for dry applications in trade and industry.
Ideal for loosening stubborn screws and applying higher torque values.
Set Contains
3.5 x 75 mm
4.5 x 90 mm
5.5 x 100 mm
6.5 x 125 mm
PH1 x 80 mm
PH2 x 100 mm
| | |
| --- | --- |
| AIMS SKU | A0107521 |
| Brand | Wiha |
| Model # | 21250(530HK6) |
| Barcode # | 4010995212506 |
| Product Type | SoftFinish Slotted And Phillips With Solid Steel Cap Set |
| Weight (g) | 610 |
| Tool Length (mm) | 300 |
Calculate Shipping for A0107521