Wiha Slim Torque Screwdriver Starter Set, 18 Pieces
Slim Torque Screwdriver Starter Set
---
---
Browse other products under: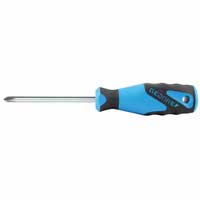 Screwdrivers
Browse other products by:
Wiha
---
Slim Torque Screwdriver Starter Set, 18 Pieces
Handle, model 5-14 Nm.
Torque value can be set via a window scale.
Effortless access to low-lying fastening elements.
With slim torque VDE bit holder for 6 mm slim sits.
For controlled fastening on live parts up to 1 000 V AC.
VDE torque handle 1.0 - 5.0 Nm, adjustable with torque.
Arranged clearly in a high quality, rugged and durable bag.
Bit holder, insulated metal click fix bit holder locks all slim bits reliability.
Individually tested protective insulation 1,000 V AC, VDE, and GS tested.
Protective insulation molded directly onto the bit and completely integrated into the bit in the lower area.
100% safety from fastening with torque according to the specification of manufacturer type-tested switching devices according to EN 60439-1.
Contains
2.5 x 75 mm
3.5 x 75 mm
5.5 x 75 mm
6.5 x 75 mm
PH1 x 75 mm
PH2 x 75 mm
PZ1 x 75 mm
PZ2 x 75 mm
SL/PZ1 x 75 mm
SL/PZ2 x 75 mm
T9 x 75 mm
T10 x 75 mm
T15 x 75 mm
T20 x 75 mm
T25, x 75 mm
TorqueVario-S Adapter Adapter
TorqueVario®-S VDE, model 1.0-5.0 Nm
Adjusting tool Screwdriver 146 x 90 mm
| | |
| --- | --- |
| AIMS SKU | A0107584 |
| Brand | Wiha |
| Model # | 36791(2872T18) |
| Barcode # | 4010995367916 |
| Product Type | Slim Torque Screwdriver Starter Set |
| Weight (g) | 554 |
| Tool Length (mm) | 300 |
Calculate Shipping for A0107584