Thor Hammer Dead-Blow White Face 700g 1-1/2lb 38mm Face- TH1212N (508908)
Dead-Blow Hammer White Face
---
---
Browse other products under: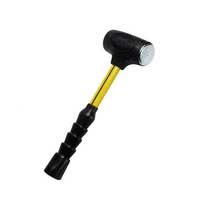 Dead Blow Hammers
Browse other products by:
Thor
---
Dead-Blow Hammers are the ideal hammer for sustained and effective blows without recoil.
Coated Die-cast aluminium alloy head with rubber grip
Fitted with screw-in white nylon faces, or for certain specialist applications
Tough brown
A cavity inside the head is partially filled with steel shot which adds to the weight, preventing rebound and delivers "dead" blows of maximum impact.
All faces are one piece moulded.
No metal pegs or inserts to damage the workpiece when worn.
Serrations in the metal head prevent faces coming loose during use.
Faces have a shoulder for extra strength and to prevent fracture from misdirected blows.
The faces are designed to wear and are easily replaceable by hand.
Polyurethane faces are also available.
Applications
Commonly used in most assembly / fitting applications including engineering, toolmaking, shop fitting, partitioning, glazing etc
| | |
| --- | --- |
| AIMS SKU | A0104632 |
| Brand | Thor |
| Model # | 508908 |
| Face Size (mm) | 38 |
| | |
| --- | --- |
| Product Type | Dead-Blow Hammer |
| Head Material | Aluminium Alloy |
| Face Material | White Nylon |
| Handle Material | Aluminium |
Calculate Shipping for A0104632