Seco Turning Insert C Shape Code 2.38 x 0.4 x 6.35mm T Insert Type - F1 7° Grade TP200 ± 0.05/± 0.05mm CCMT060204-F1 Pack of 10
Turning Insert CCMT Insert Style - F1 7° Grade TP200
---
---
Browse other products under: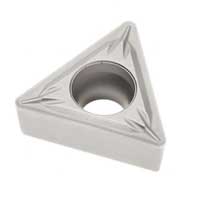 Turning Inserts
Browse other products by:
SECO
---
Turning Insert C Shape Code T Insert Type - F1 7° Grade TP200
C shape code
T Insert Type.
7° insert side clearance angles.
TP200 Insert Grade
CVD Coated.
The universal grade for highly versatile performance over a wide range of application in steels, stainless steels and cast irons.
Ti(C,N) + Al2O3 + TiN.
F1 Chipbreaker Programme
Chipbreaker for positive inserts. Positive geometry with a sharp cutting edge gives easy-cutting properties.
Suitable for high feed rates at fine depths of cut in precision forgings and castings.
Indicative machining range: f = 0,1-0,5 mm/rev, ap = 0,2-3,0 mm.
Machining in bar automatics, for instance: f = 0,08-0,25 mm/rev, ap = 1-3 mm.
About Seco Turning Insert
Anything is possible when it comes to our broad selection of general turning grades and chip breakers.
Supporting inserts of different shapes, sizes, and thicknesses, we developed each of these solutions with the same goal in mind.
to boost the productivity and tool life in your turning applications.
Covering all material groups, this comprehensive range allows you to achieve your goals in terms of material removal rates, tool life, and surface finish.
| | |
| --- | --- |
| AIMS SKU | A0115789 |
| Brand | Seco |
| Model # | 74066010 |
| Barcode # | 66010740001003 |
| Designation | CCMT060204-F1 |
| Qty in Pack | 10 |
| Tolerance | ñ 0.05/ñ 0.05mm |
| Fixing Hole Diameter (d1) Mm | 2.9 |
| Fixing Hole Diameter D1 Mm | 2.9 |
| Insert Thickness (S) mm | 2.38 |
| Theoretical Cutting Edge Length (l) Mm | 6.5 |
| Clearance Angle Major (an) Deg | 7.0 deg |
| Insert Shape Code (SC) | C |
| Grade | Grade TP200 |
| Chipbreaker Programme | F1 |
| Insert Included Angle (epsr) Deg | 80.0 deg |
| Inscribed Circle Diameter (ic) Mm | 6.35 |
| Corner Radius (RE) mm | 0.4 |
| | |
| --- | --- |
| Product Type | Turning Insert |
| Insert Style | CCMT |
| Insert Grade | Grade TP200 |
Calculate Shipping for A0115789