Seco Turning External Toolholder Multiple Lock 101.6 x 22.2 x 3mm Right 95° W Insert Shape MWLNR-10-3A
Multiple Lock - L Type - W Insert Shape - A Surface
---
---
Browse other products under: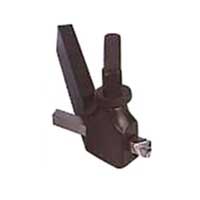 Indexable Turning Tool Holders
Browse other products by:
SECO
---
Seco Turning External Toolholder Multiple Lock 101.6 x 22.2 x 3mm Right 95° W Insert Shape MWLNR-10-3A
Turning External Toolholder (Multiple Lock - L Type - W Insert Shape - A Surface)
Multiple locks - multiple lock assembly, (Pin and clamp lock) / (M-Type tool holders).
W insert shape.
L tool type, offset shank with –5° end or side cutting edge.
A surface, qualified back and end. 4" long.
About Shank Toolholders and Boring Bars:
Seco's incredibly diverse ranges of holders for general turning allow us to provide ideal solutions to your specific applications.
Whatever your material, set up, part requirements and machine capabilities, our expansive selection ensure a perfect match to your needs.
This wide offering of the easily applicable shank and boring bar tool holders adds another level of reliability and productivity to lathe machining.
The range of ISO and ANSI tool holders accommodates a comprehensive range of insert types, shapes, and sizes, also allowing the choice of several leading clamping methods.
| | |
| --- | --- |
| AIMS SKU | A0115182 |
| Brand | Seco |
| Model # | 75056399 |
| Barcode # | 56399750000101 |
| Net Weight (kg) | 0.251 |
| Product Type | Turning Toolholder |
| Designation | MWLNR-10-3A |
| Insert Shape Code (SC) | 0 |
| Ramping Angle Maximum (RPMX) | 7.8 deg |
| Inclination Angle (LAMS) | -6.0 deg |
| Functional Length (LF) | 101.6mm |
| Height Of Tool Holder Shank (H) mm | 15.8 |
| Cutting Depth Maximum (cdx) mm | 4.9 |
| Version (internal/external/both) | External |
| Rake Angle Axial (gamp) | -5.4 deg |
| Shank Type | Square shank |
| Cutting Diameter Internal Minimum 3 (mm) | 125 |
| Functional Width (WF) mm | 22.2 |
| Tool Cutting Edge Angle Code (KAPRC) | L |
| Insert Clamping System (ICS) | Multiple Lock |
| Tool Cutting Edge Angle (KAPR) | 95.0 deg |
| Connection Text Workpiece Side (ctws) | WN0604 |
| Direction Of Cutting (hand) | Right |
| Rake Angle Orthogonal (gamo) | -6.0 deg |
| Insert Size Inscribed Circle Diameter (mm) | 3 |
| Cutting Edge Length (mm) | 3 |
| Tool Type | L Type |
| Shank Length (LS) mm | 73.6 |
| Functional Height (HF) mm | 15.9 |
| Shank Width (b) Mm | 15.8 |
| Connection Text Machine Side (CTMS) | 15.88 |
| Rake Angle Radial (gamf) | -6.0 deg |
Calculate Shipping for A0115182