Markal Dura-Ink 5 1mm - Black
Dura-Ink 5
---
---
Browse other products under: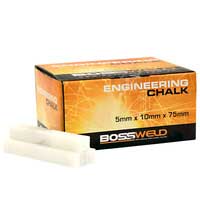 Marking Tools
Browse other products by:
Markal
---
Dura-Ink 5
Extended micro tip.
Wear-resistant ink formula.
Durable and lightweight barrels.
Formulated to dry quickly and leave bold, highly visible marks.
Ideal to use through drill holes, mounting brackets, or in any hard to reach areas.
The industrial-grade ink is safe for use on almost any surface and is wear and water-resistant.
Lightweight enough to reduce hand fatigue, but large enough to be used even with work gloves.
The Dura-Ink 5 is a permanent marker that uses an extended micro tip for precision marking needs.
Impact-resistant barrels will hold up in tough working environments and help extend the life of the marker.
Whether marking on cardboard or steel, the extra tough tips resist spreading or mushrooming, ensuring long life and accurate marking performance.
| | |
| --- | --- |
| AIMS SKU | A0108126 |
| Brand | Markal |
| Model # | MK96520 |
| Barcode # | 48615965208 |
| Product Type | Dura-Ink 5 |
| Colour | Black |
| Markal Size (mm) | 1 |
Calculate Shipping for A0108126