Holiday Craft Projects Using Hand Stamps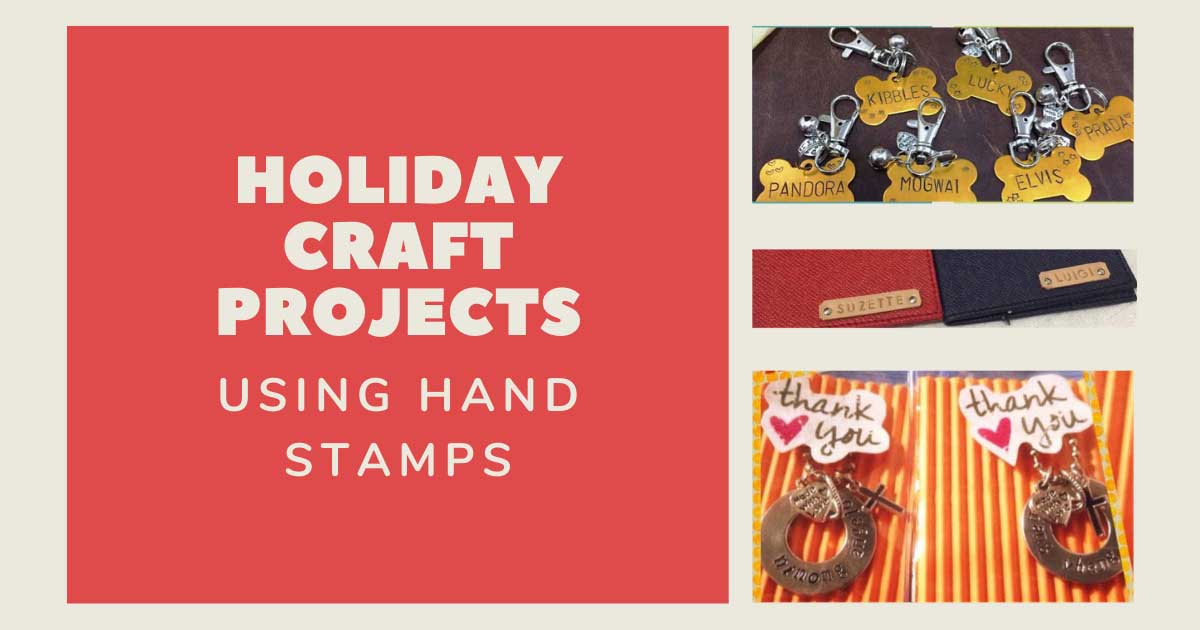 To celebrate Christmas, we're putting down our regular tools to add a personal touch to a few gifts using hand stamps. Not only is this a great way to personalize your gifts, it also adds an element of security as well.
DIY Personalized Key Chains & Pet Tags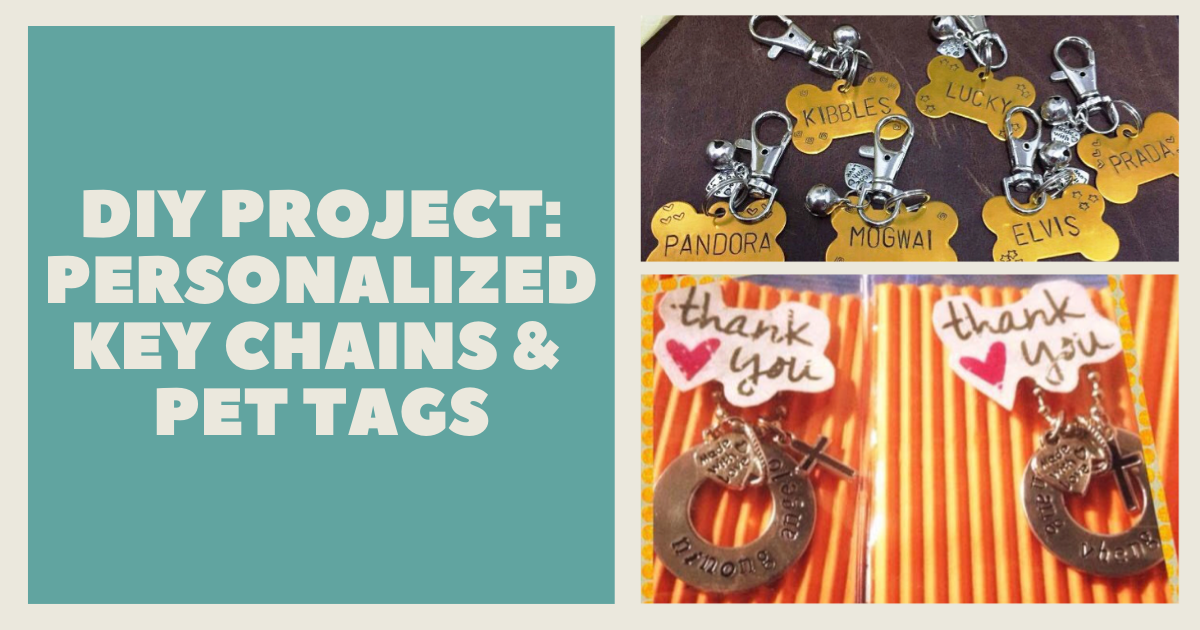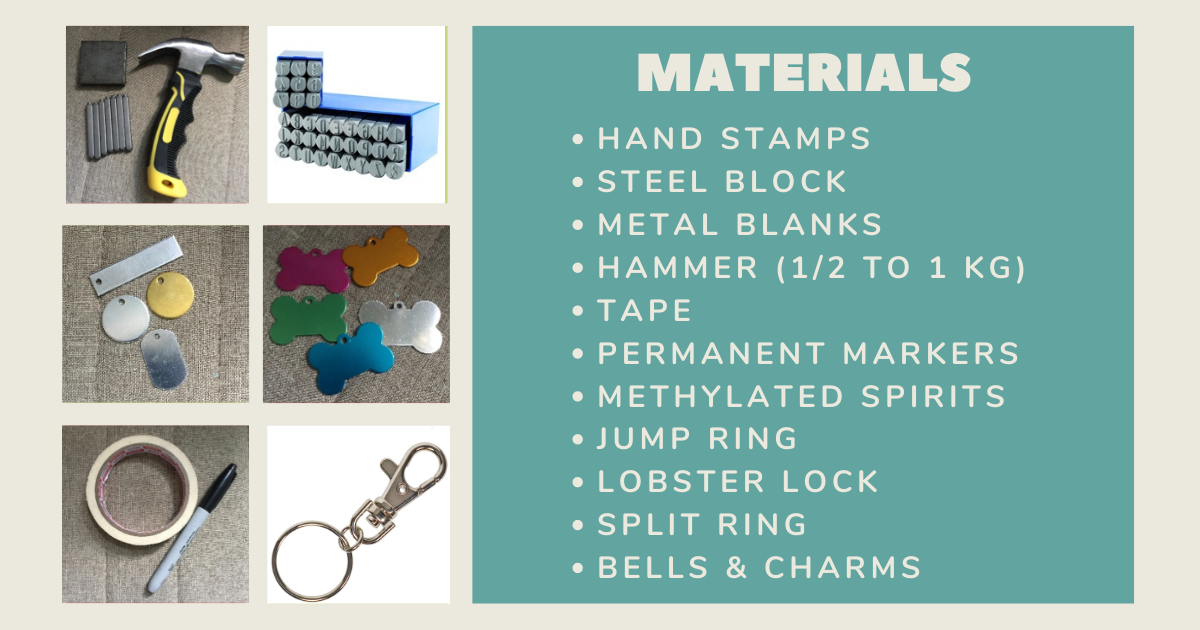 Which Hand Stamp Should I Use?
In making keychains, 3mm and 1.5 mm hand stamps are generally recommended. You can use a 3mm hand stamp on the name to make to make it prominent, and a 1.5mm hand stamp if you want to include other phrases or taglines.
In making pet tags, I recommend using 6mm hand stamps. This size is perfect for average-sized dogs.
Step 1
Place the steel block on a hard, flat surface. Use tape to secure the metal blanks in place.

Step 2
Draw evenly spaced lines on the tape and mark the space for each letter or number. This will serve as your stamp guide.

DIY Tip: Write the letter/number of the stamp on all sides of the stamp using a permanent marker so you can easily find the stamp you need. Line up the hand stamps you will be using for a much smoother workflow.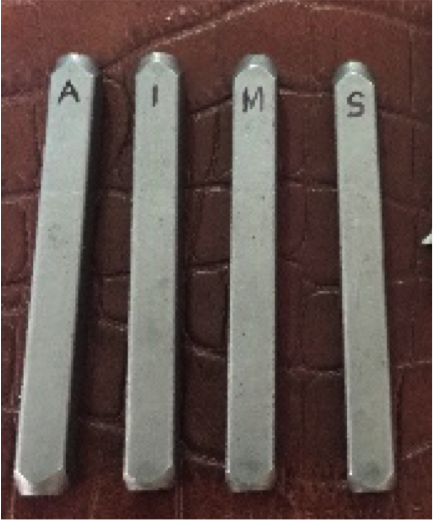 Step 3
Hold and position your metal stamp on the metal blank and make sure it is vertically upright and forms a 90-degree angle with the surface. Strike the stamp firmly. Avoid hitting it more than once. If you need to hit it again, make sure it is in the exact same place or you'll create a double stamped image or blurred image. Complete the desired word or message one stamp at a time.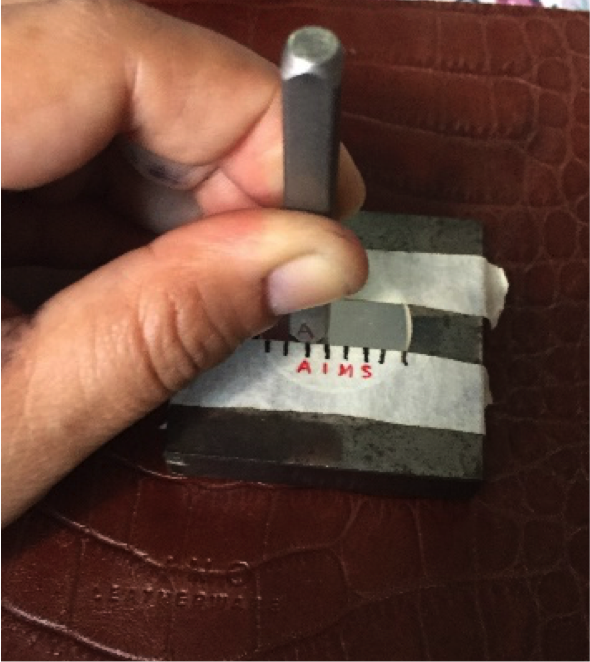 Step 4
Remove the tape. Using a permanent marker, add contrast by drawing over each of the stamped letters and numbers. Black markers are recommended on aluminum and silver blanks. White markers are recommended for coloured blanks. Using a small piece of paper towel and methylated spirits, carefully remove the excess ink.
Finished Products


DIY Personalized Passport Holders & Leather Pouches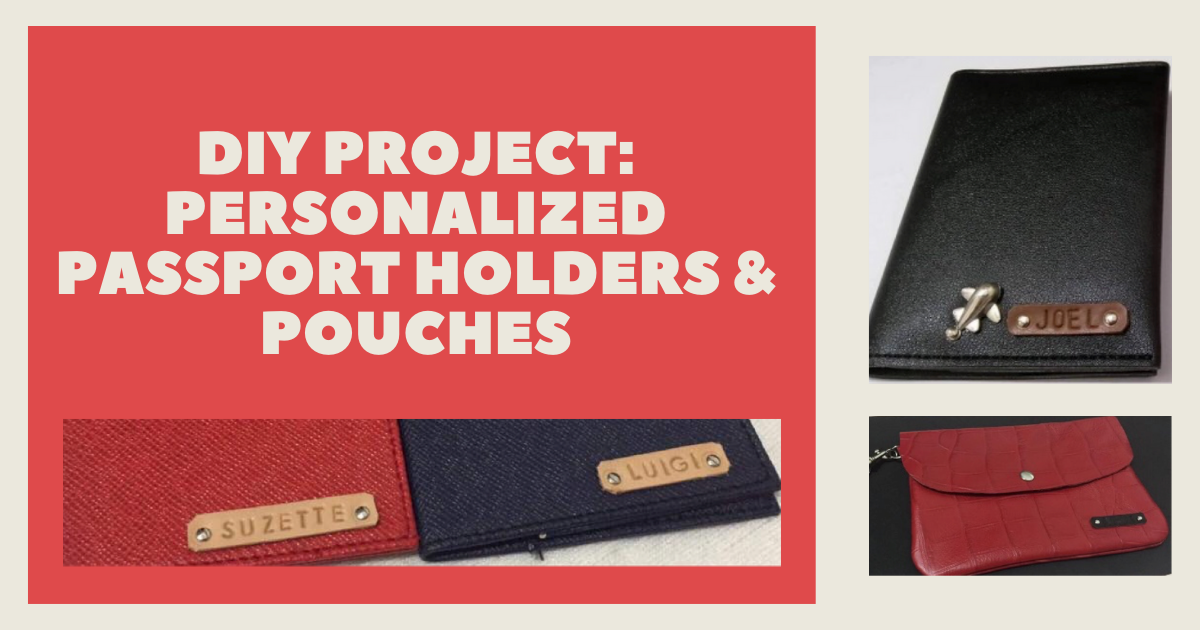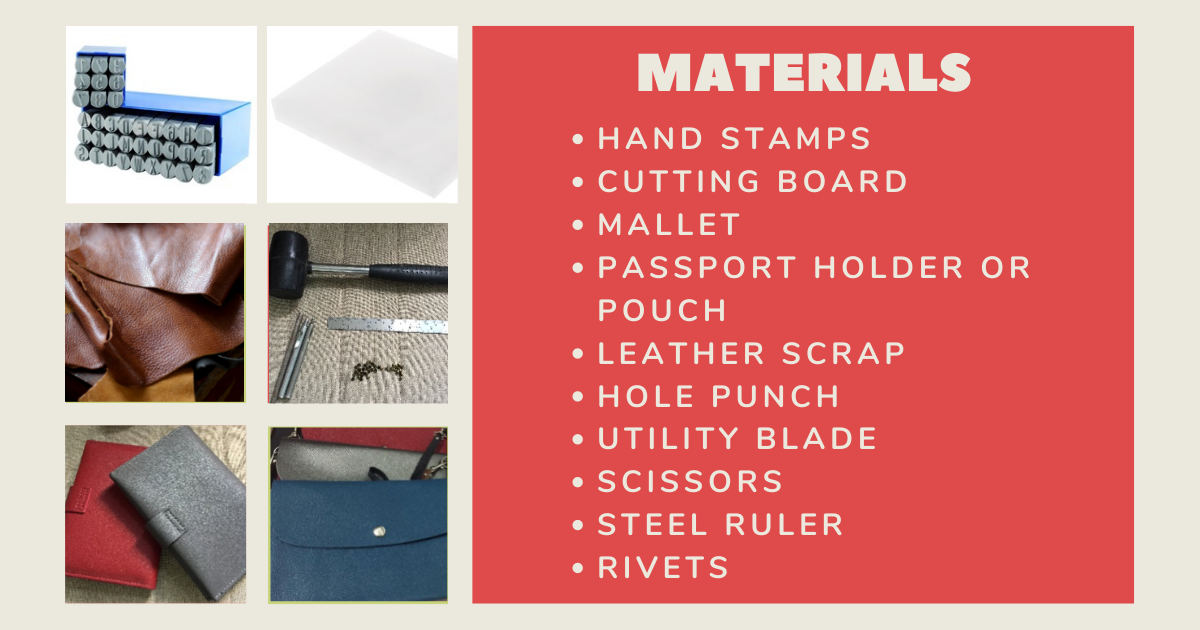 Which Hand Stamp Should I Use?
For leather materials, 4mm and 6mm hand stamps are recommended for readability.
If you're looking for leather scraps to do this project there are a number of places you can source leather scraps very cheaply or even free:
Step 1
Place the cutting block on a hard, flat surface. Cut your scrap leather into a 12mm x 50mm rectangle.
Step 2
Position your hand stamp on the scrap leather making sure it is vertically straight. Start stamping the name of your choice.
DIY Tip: To protect your fingers and improve your accuracy, I recommend using a hand stamp holder.
Step 3
Using a hole punch, punch a hole in each end of the leather strip.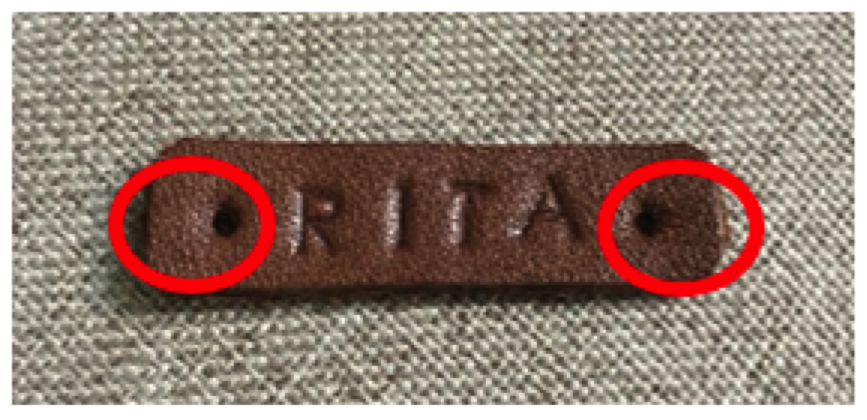 Step 4
Fasten the leather strip to the passport holder by punching rivets through the holes. If you're feeling inspired, add a charm for that extra bling. You can also do this on pouches and bags.
Finished Products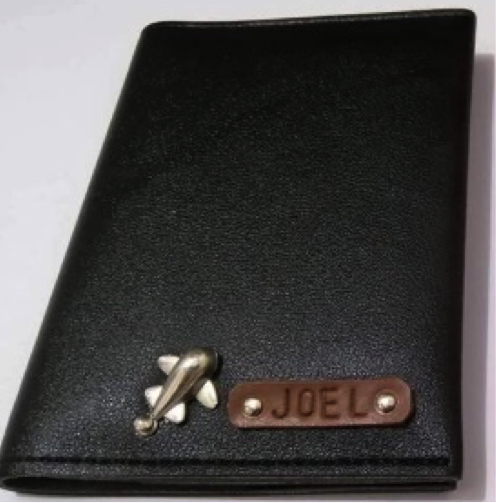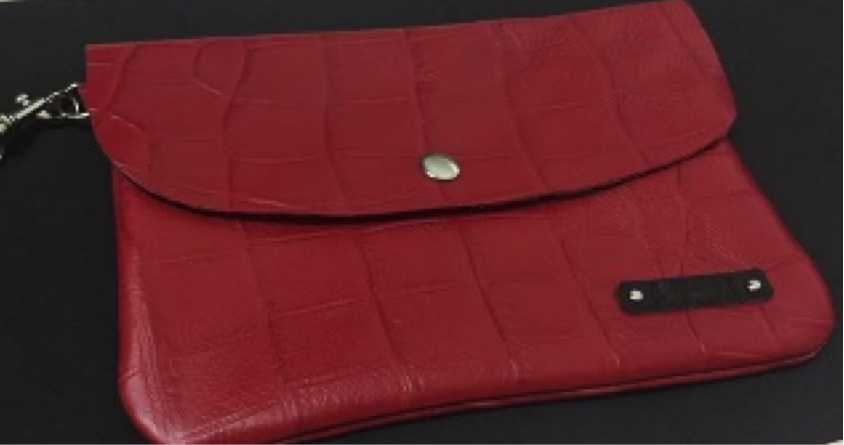 Stamp Options
There are many sizes and designs of hand stamps to choose from.
Punching letter sets consist of 27 single stamps, which include the 26 letters of the alphabet and the ampersand (&) symbol. Punching number sets typically consist of 9 single stamps since ''6'' doubles as a ''9''.
If you want to go all in, you can buy a complete hand stamp set, which includes a hammer, the full set of number and letter stamps, plus punctuation marks.
Happy Hand Stamping!