TechTop 4 kW Motor 415V 3 Phase 2 Pole, 2915 RPM, Foot & Flange TC2B0406TCI
415V Three Phase Cast Iron Motor (TC2B0406TCI)
---
---
Browse other products under: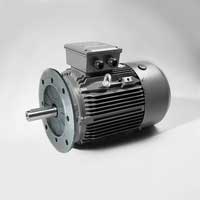 415V Three Phase Motors
---
TechTop's TCI cast iron series motors combine superior electrical characteristics, high quality design and the robust strength of cast iron. This AC induction motor is ideal for all industrial applications.
A unique feature of the TCI series electric motor is its multi-mount design up to 280 frame, allowing for the motor feet to be repositioned to either side to produce a side mounted terminal box.
Minimum Energy Performance Standards (MEPS) Compliant
| | |
| --- | --- |
| AIMS SKU | A0099305 |
| Brand | TechTop |
| Model # | TC2B0406TCI |
| Poles | 2 |
| R.P.M. | 2915 |
| Shaft (mm) | 28 |
| Frame | 112 M |
| Mounting | Foot & Flange Mounted (B3/B14A) |
| | |
| --- | --- |
| Group Code | Techtop-TCI-4kw |
| Product Type | Three Phase Motor |
| Material | Cast Iron |
| Power (kW) | 4 |
| Power (horsepower) | 5 |
| AC Phase | Three Phase |
| Nominal Rated Input Voltage | 415 V |
| Series | Techtop TCI |
| Current Type | AC |
Calculate Shipping for A0099305